I bought these two bags during Christmas. (Sorry for the awful photos, they were taken at the hotel room/bathroom!)
The blue bag is from Coach and I paid $340 at the outlet, retail $380+tax. The pink bag is Juicy Couture and retailed for $350 but I got 25% off at Saks so it was something like $280 after tax.
I liked the shape of the Coach bag and how well it held stuff and the leather was nice and looked like it would hold up awhile/not scratch, but the color wasn't that great and it didn't look like a bag I'd use everyday. I returned this but I'm sure I could find it again.
Now I really liked the Juicy bag, it's REALLY soft and light and feels really good, but it's on the small side and I had to buy the floor model since it was the last one. There were already nicks/scratches on it to begin with. I used it maybe 3 times (with tag still inside attached, and inside pull-tags still wrapped, for only a few hours each time) and now it seems like the leather isn't holding up well—maybe it was like this before, but the leather seems like it's flaking in certain places.
Should I return this too?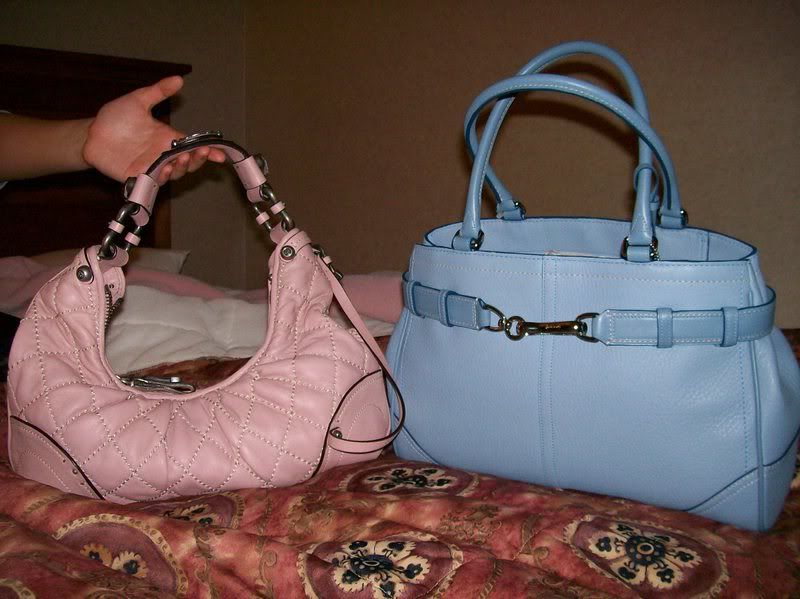 I'm still on the search for the perfect handbag
I hate anything with huge buckles, or too many tassles, or logo prints of any sort. I do like quilted bags alot. Lindsay Lohan was carrying this gorgeous Balenciaga but I could never afford it, maybe I'll post a pic if I can find it. At the most, maybe $500 but I'd wanna keep it under $350-400. Suggestions?
TIA!