Bring this up to avoid shitting the other threads.
From
http://www.honestforum.com/hf-chat/1...-facelift.html
Quote:
Originally Posted by
SevenKid0505
That kind of stuff never happens to me but, then again, I have a real computer that is designed to be functional as opposed to cute and trendy in a coffee house.
Not everyone use their computers in coffee houses.
Quote:
Originally Posted by
Mihalis
no thats because windows users always make their browser full screen...i keep mine as a reasonable width/height so i can actually be productive in other applications

i should not have to make my browser 1000px wide to use the site :\
Fullscreen exist because the old computer screens were low in resolution, in our age of 20"+ screens it's ridiculous to use fullscreen, waste of real estate.
Quote:
Originally Posted by
Anton
Multitasking = Lies!

And anyways, I don't see how I can watch porn, surf HF, and write a paper at the same time.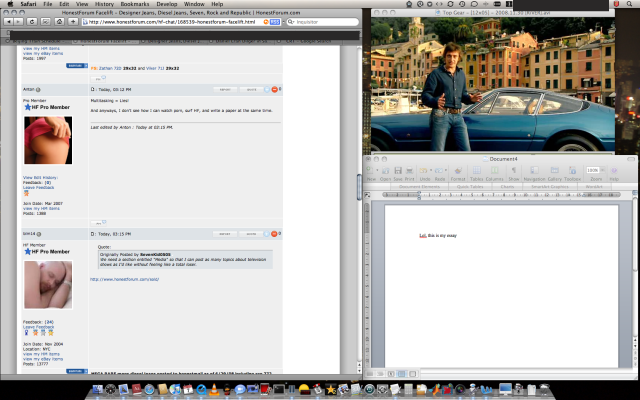 Quote:
Originally Posted by
blm14
Also because most windows users have long ago learned that ALT-tab and CONTROL-tab are a perfect way to keep many windows open and not get confused, lost, or lose productivity.

Whereas most apple users STILL don't know about APPLE-tab. <sigh>
I admit that apple-tab is copied from alt-tab (shift-tab, etc) of windows, but I never use it in OS X since we have Exposé already. Why would I want to go through my applications one by one in a order (in XP, in OS X you can click on the app you want to use on the apple-tab list).
Alt-tab, or its variant windows-tab in Vista, can be thought of finding the program you want in a linear fashion, such as when you open a file cabinet and flip through the files one by one to file one you want, while Exposé is spreading all your files on a table so you can choose the one you need at a glance (without the hassle of putting the files back together after).
Quote:
Originally Posted by
Afro1989
whoa, WTF?! Cool.
I find exposé to be very useful in the same way.
Quote:
Originally Posted by
blm14
Microsoft has had such features built in since windows 95 (
Keyboard shortcuts for Windows
if you're interested). Occasionally they do innovate, shockingly.
Yet another example of why most people buy Macs because they don't really want to take the time to learn how to use a computer to its fullest extent.
Most of the windows shortcut were taken from apple. Before Mac standardized the most keyboard shortcut such as copy/paste/save apple-c/apple-v/apple-s, Microsoft programs used their own shortcuts depending on the company and it was a huge mess.
Quote:
Command Control Confusion.
Merging the conventions of the 80s Mac and the 70s Apple II also resulted in the control key being left to perform terminal emulation functions, while the command key was kept unique to commands used in the graphical desktop environment.

Standard Apple key combinations, such as Command O to open a file, had no equal in the mixed up world of DOS, where every app invented its own key combinations. To simply open a file:

WordPerfect used the command F7 + 3.
WordStar used Ctrl + K + O.
Lotus 1-2-3 used / to open the menu, W for Workspace + R for Retrieve.
Microsoft Word used Esc to open the menu, T for Transfer + L for Load.
When Microsoft delivered Windows as its copycat, competing version of the Mac desktop for DOS users, it simply mapped the standard key commands Apple had originated–including the familiar Command S, Z, X, C, V for save, undo, cut, copy, paste–to control key combinations on the PC. This was another shortsighted PC mistake that would become an unsolvable annoyance for users.
Source:
How Apple Keyboards Lost a Logo and Windows PCs Gained One — RoughlyDrafted Magazine
Another personal thing I have with window using ctrl as shortcut key is... it's pretty un-ergonomic to position your left hand's pinky to hold the ctrl key in the corner while you try to use your middle/index finger for c/v for copy/paste. I have had to copy/paste tons of things when I was working as a programmer before and my hand did not like it.