Just got these in 2 days ago. I was excited to try them out and they have not disappointed. These pics are post soak, nothing fancy just want to show the fit.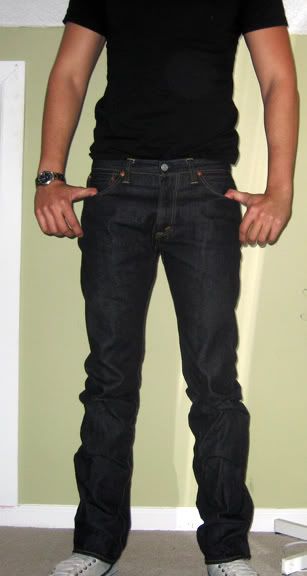 These jeans were unsanforized, yet I was still shocked at just how much they shrank over a 1 hr warm soak.
Total, about 1 inch in the waist, and almost 2 inches on the inseam. As you can see they don't stack at all, the length is spot on for me (for reference I have about a 35" inseam).
pros:
-STIFF. If regular nudies were a piece of tissue, these would be a sheet of cardboard. It almost takes effort to bend my knees. If I could balance these properly they'd stand on their own.
-heavy on the indigo. These are meant for fast, high-contrast fades. They almost look black but they are actually a very dark blue. Sticking my hands in my pockets my hands actually come out w/ a blue tinge.
-overall fit & style. Main reason I got these... they just look solid, the fit is spot on and once they break in it'll only get better.
cons:
-zipper fly. It going to take me some time to get used to this, but I would have much preferred a button fly. Hopefully it won't affect my whisker fades too much
-heavy on the indigo. This is also a con. My white shoes are already turning blue, it's only going to get worse. Ditto on my white tees, or any nice white upholstery.
-narrow pockets. Front pockets are basically useless. I can barely fit my hands in them, and if I drop change or my phone (which is small) in there, it's a huge hassle pulling them out.
Overall these are my fav in my relatively small raw denim collection. Hope to post some good updates throughout their life cycle.
Btw for anyone whos interested in getting these, they are abundantly available in Japan. Just hook up w/ a dependable proxy and you're good to go. I got mine $240 shipped.
or, if you want the easier more costly approach, get them through self edge.