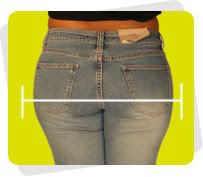 This is a case where you can definitely have too much of a good thing.
People with this type of big butt also tend to carry it a bit low and have fuller thighs. This only contributes to a bigger look.
Fit issues for a full wide butt
Jeans never give enough room through the seat, causing the back waist to pull down as you move.
The waist
gapes
open in the back and this just becomes more exaggerated as the jeans pull down at the waist.
Jeans can be too tight in the thigh area, exacerbating the whole pull-down and gape situation as well as giving the lovely "sausage leg" effect.
DON'T DISPAIR THERE ARE SOLUTIONS!!!
Choose jeans that have a
straighter shape
to minimize curves.
Try lower rise styles that have a good amount of waist pitch They will fit better at your waist and still give you plenty of seat coverage
Look for back pockets that have larger proportions and are centered on the fullest part of your seat. They will balance out your over all look and make you feel better about your curvy shape.
The extra flesh that spills over the top of the waistband of low rise jeans.
The lower the jean, the more likely that a muffin top will appear.
SOLUTIONS TO THE MUFFIN TOP DILEMMA
Get the right size of jeans. Yes, jeans have stretch, but if you are wearing them 2 sizes too small flesh is going to spill out no matter what you do. Don't subject yourself or anyone else to that, please.
Try out some at the waist jeans. They are coming back into fashion and they will smooth and cover all of that softer flesh. If you accessorize well, they can look very chic and sophisticated.
Look for a slightly higher low rise jean. Anyone who has had the muffin top problem knows where their sweet spot is; that perfect waistband position that is low enough to be sexy and modern and high enough to all but eliminate the spill over effect.
COIN SLOT: THE NASTY SIDE EFFECT OF LOW RISE JEANS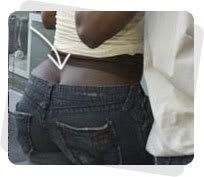 Stretch of exposed butt cleavage that appears between the bottom of a shirt and the top of the pants
If you've worn low rise jeans, you've experienced this unfortunate side effect. You squat or sit and then you feel a cool breeze blowing across your back side that leaves you cursing that short T-shirt as you try to tug it down to cover the exposed area.
If you love low rise jeans, look for those that offer extra coverage in the back and dip down to a lower front.
Get jeans that have enough room for your butt. If there's barely enough denim to cover you when you're standing, you are guaranteed to feel over exposed when you start to move.
Try out some of the new mid rise jeans. Mid rise is the newest trend in designer jeans and it can be a welcome relief from your old low rise world.
Space between your body and the back waist of your jeans is "gape".
If you only notice it when you sit or squat, that is a very small degree of gape.
If you can fit your whole fist between your body and your jeans waistband (without even stretching the denim) you have a very high degree of gape.
Why does the waistband pull away from your body?
Your butt is curved and the butt of the jeans is not.
The shape is there but there isn't enough room for your butt in the jeans, causing them to pull down in the back (if this is the case, you will feel it most when you walk or move).
Back fat has appeared on either side of your spine, leaving a dip in your back where your spine is.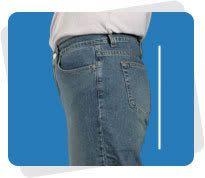 There isn't much there and there isn't much to say.
Having a flat butt is just as difficult as having a big butt when it comes to fitting jeans.
Look for jeans that have extra detailing and design on the back pockets that will make your butt look fuller than it really is.
Your flat butt most likely comes with some perfectly slim thighs, so wear your jeans tighter through the thigh. Defining the slimness of your thighs will make your butt look that much shapelier.
You are the perfect candidate for butt enhancing jeans. Try out the Butt Lifter Jean from Blue Cult or the Boot Cut from James Cured. Both are good for making that flat butt rounded and perky.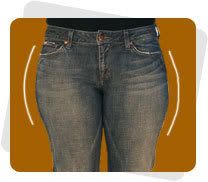 Excess fat around the hips and buttocks.
Women of all sizes can have the saddle bag dilemma. Size 2 with saddle bags? You bet. If the widest part of your body is the around your upper thighs, then you are suffering from saddle bags.
There are things that you can do to minimize the look
1. Look for boot cut jeans or styles with flare legs that will balance out your proportions
2. Wear clean dark denim with little to no fading, especially in the thigh area
3. Look for jeans with the side seams set slightly forward. This will give the illusion of slimmer thighs and less width
Are your jeans to short?


Too short jeans are a surefire way to kill a good look and give you a bad fashion reputation (remember PeeWee Herman?).
Even if your socks match the color of your sweater perfectly, it's not something you really want to advertise by wearing your jeans too short. Wearing them too long, on the other hand, can make even the most expensive outfit look sloppy and unfinished.
What is the perfect jean length? The simple rule: the narrower the cut, the shorter the jeans should be.