We would like to thank the following sponsors who support us in bringing you all the celebrity denim news you love.
Diesel Jeans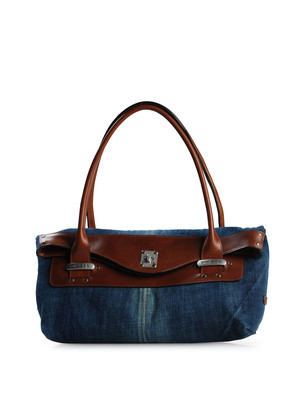 How cute is this?  I love Diesel jeans, so why not a denim Diesel handbag like this new one – called the Schubert!  Do you love it?
Sale at Diesel.com for the ladies – 30% off on select pants, shirts & knits!  Sorry guys – it appears to be a sale only on select women's items this time.  And yes – they do have some denim on sale – check it out!
We've always loved that Diesel (carries inseams at 30″, 32″ and 34″) and Joe's Jeans (the Provocateur style) carried shorter inseams for those of us who are not of supermodel stature.  But now, increasingly, 7 for All Mankind is offering jeans with shorter inseams as well.  Finally!  ShopBop has an entire category dedicated to Jeans for Petites.  I am 5'7″ – so not exactly petite, but my legs are not super long either.  I have to hem all my jeans that are 34″ and longer so I would buy the 7 for All Mankind Jeans that have a 32″ inseam which would be perfect on me.  I have a feeling many girls are like me – not short but not super tall either, and could wear these that have 32″ inseams.   Love!
Loading ...
These two sure are loyal to their jeans, aren't they?!  Once again, Ashlee Simpson was spotted in her trusty J Brand skinny jeans and Pete Wentz of Fall Out Boy in his black Diesels.  Aww, celebs in designer denim love.